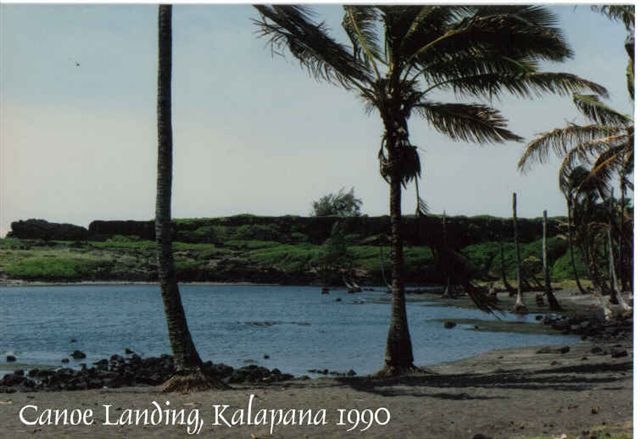 Puna
The word Puna means "spring of water". The district of Puna on the Big Island is so named because of its many fresh water springs.
History
Puna Canoe Club was formed in 1975 by a small group of individuals, mainly from Kalapana, who cared for and enjoyed the land and ocean. This core group included: Clarence "Aku" Hauanio, Ipo Kaawaloa, Darnell Mahi, Steve Morris, and Anson Smith. The canoe club was originally called Ku Maka Ula after the ancient Hawaiian heiau (temple) at world famous black sand Kaimu Beach in Kalapana. In 1979 the name was changed to Puna Paia'ala I Ka Hala O Kalapana for cultural sensitivity reasons, however, the club was simply known as Puna from this time. Puna adopted the colors of yellow and green, yellow representing the yellow to red fruit of the Hala tree and green representing the fragrant Maile vine, both widely found in the Puna area. The Puna halau was located in Kalapana near Kaimu beach, however, in June 1990 Pele, Hawaii's volcano goddess, embraced the Puna halau and Kaimu beach with a blanket of lava.
Koa Canoes
Puna has two fine Koa canoes, both of which were carved in Kalapana. Puna's first canoe, the Alii Kai, was carved in 1978 by Rev. John Hauanio. Puna's second canoe, the Kalapana, was carved in 1988 by master canoe carver Puaniho Tauotaha of Tahiti.
Today
As a result of Puna's loss of its halau in Kalapana and Kaimu beach as a safe canoe landing, Puna was reestablished in Hilo on Hilo Bay. It was after its move to Hilo that Puna started to grow in membership drawing many of the better paddlers from other clubs throughout the Hilo area. Due to its competitive focus, family values, and well organized program, Puna soon grew to be the largest canoe club in East Hawaii. Although the majority of Puna's membership now hails from the greater Hilo area, the leadership and ahi (fire) of the club continues to come from members from the Kalapana/Puna district. Today Puna is the dominant club in East Hawaii, is recognized and respected throughout the State of Hawaii as a competitive force, and reguarly competes in national and international events.
Future
Puna Canoe Club has always recognized and appreciated the recreational and social aspects of canoe paddling. However, on Puna's move to Hilo it also adopted a greater focus on competitive excellence. Accordingly, it is Puna's vision to perpetuate the ancient sport of Hawaiian outrigger canoe racing through an enjoyable, nurturing, and disciplined, program. A program that will allow the individual paddler the opportunity to work towards and experience the very highest levels of competition. It is also Puna's goal to accomplish this mission in a socially responsible and culturally sensitive manner that will benefit its members, associates, sponsors, and the general community.